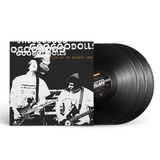 Live At The Academy 3LP vinyl
Availability:
Pre-Order, released on: 10/20/2023
Marking one of their most monumental live appearances to-date, Goo Goo Dolls' show at The Academy in 1995 would go down as an integral chapter in their illustrious history book. As the leaves turned in the autumn that year, the rapidly ascending three-piece traveled east for CMJ Music Marathon convention. On the eve of what would be their biggest show in New York City at that time, the group delivered a stripped-down soundcheck performance for Tom Calderone's radio station 92.7 "Dare to be Different that was mixed and recorded by Jerry Finn, the legendary producer who'd worked with everyone from Blink-182 to The Offspring. Not only was it the first time the trio had ever recorded a live show with a recording truck, but it was their debut acoustic performance in front of a live audience. Both the soundcheck performance and the group's subsequent show at The Academy the following night captured a special moment in their blossoming career. With the band's song "Name" on its way to becoming their first hit, it was a rare point in time that saw a young band on the precipice of stardom. Their hype reaching a boiling point; their undeniable talent on full display. What came after was the meteoric rise of one of alt-rock's most influential groups of the past half-century.